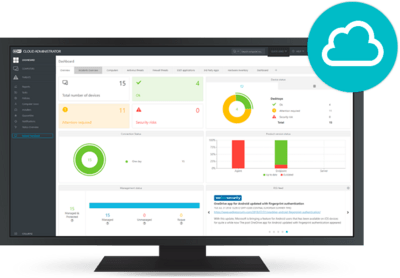 Enterprise-grade security management solution. ESET Protect on Indonesia Cloud.
Simple, quick, easy to manage using cloud based ESET Protect solution. Connected directly on Indonesian Internet Backbone (OpenIXP/IIX) for more speed to access and manage. Designed to manage up to 10000 seats. Custom requirement above 10000 seats are welcome. Dedicated ESET Protect (non shared) every customer dedicate to one ESET Protect Console server.

Single point of network security management

Full security management automation


Accessible safely via web browser from anywhere

No need for additional hardware or software

Intuitive Dashboard
Web based ESET Protect Console dashboard for easily managed your ESET product.
Easy To Use
Based on ESET Protect Console on premise solution, you will enjoy while managed your security product.
No Server Hardware and Server OS Required
yes! no need to buy new hardware and operating system! we provides for You.
Indonesia Internet Backbone (OpenIXP/IIX)
Directly connected to Indonesia Internet Backbone for more speed on managing you security solution.
Fully-customizable notification system
The notification system features a full "what you see is what you get editor" where you will be able to fully configure notifications to be alerted on the exact information you want to be notified about.
Single-Click threat remediation
From the threats tab, you can create an exclusion, submit files for further analysis, or initiate a scan from a single click.
Dynamic and custom reporting
The ESET Protect provides over 170 built in reports and allows you to create custom reports from over 1000 data points.
Ready for Single or Distributed Network
Whatever Your company network model. Single location or branch offices, as long all computer connected to the Internet, you can manage.
Pre-Configured Report and Alert
Simplify your task with preconfigured report and alert. No more task, console is ready to report and alert when You finish your installation. Detailed can be found here.
Supported Products
Try before you buy
Register your company to get a free 30 day full version. This service provided by ESET Indonesia, limited to Indonesia and Timor Leste.